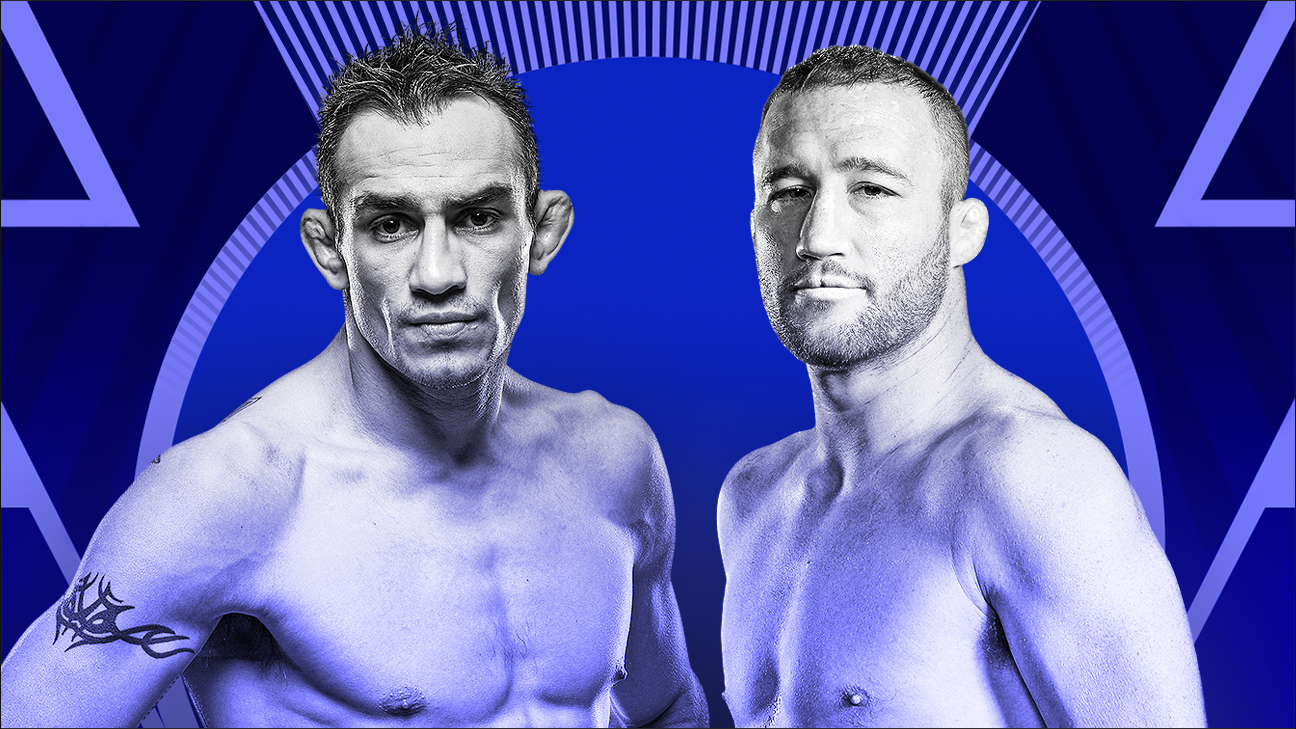 UFC president Dana White has made good on his promise to be the first sport back in action in the United States, as UFC 249 is officially upon us at VyStar Veterans Memorial Arena on Saturday night in Jacksonville, Florida.
UFC 249 was originally supposed to take place on April 18 in Brooklyn, New York, but those plans were scrapped long ago due to the impact of the coronavirus pandemic. Over the past several weeks, the pay-per-view event has been moved, postponed, reconfigured and everything else in between. But finally, here we are. Eleven fights in an empty arena.
Tony Ferguson will attempt to extend his 12-fight win streak at lightweight in an interim title bout against one of the most entertaining men in the sport, Justin Gaethje. The winner is in line for a shot at champion Khabib Nurmagomedov.
Henry Cejudo will seek his first 135-pound title defense against one of the best of all time, Dominick Cruz. Will ring impact Cruz, who hasn't fought since losing to Cody Garbrandt on Dec. 30, 2016?
Two hard-hitting heavyweights, Francis Ngannou and Jairzinho Rozenstruik, will battle with the hope of a future title shot.
The card features other well-known names such as Cowboy Cerrone, Anthony Pettis, Michelle Waterson, Carla Esparza and more.
The prelims start at 7 p.m. ET with the main card at 10 p.m.
---
Fight in progress
Heavyweight: Greg Hardy (5-2, -210) vs. Yorgan De Castro (6-0, +175)
---
Results
Welterweight: Anthony Pettis (23-10) defeats Donald Cerrone (36-15) by unanimous decision
---
Heavyweight: Aleksei Oleinik (59-13-1) def. Fabricio Werdum (23-9-1)
After 24 years as a professional MMA fighter, Oleinik now has his first victory over a former UFC champion.
Oleinik beat Werdum by split decision (28-29, 29-29, 29-28) on the UFC 249 prelims in a plodding, back-and-forth bout. Oleinik, 42, turned pro in 1996 and this is his fourth decade in the sport. Werdum, coming off a USADA suspension, had not fought since 2018.
It was all Oleinik in the first round. Werdum came out slow on the feet and Oleinik made him pay with several punches, including some uppercuts that clearly hurt the former champ. In the second, Oleinik clearly slowed and Werdum was able to get him to the ground. But once he got up, Olenik was firing shots again. A surprising spinning back elbow seemed to get through Werdum's guard.
Werdum took the third. He was able to get Oleinik to the ground and work for several submissions. At one point, Werdum nearly had a kimura, but used it instead to sweep Oleinik and achieve full mount. The fight came to an end with Werdum working on a guillotine choke. Werdum, a former four-time Brazilian jiu-jitsu world champion, also had two armbar attempts in the third round.
Oleinik has now won two straight and four of his last six. The Ukraine native is the third fighter in UFC history to win at least five fights at 40 years old or older, per ESPN Stats & Info. He joins legends Randy Couture and Dan Severn. Werdum, a 42-year-old Los Angeles resident, has dropped two straight. His last bout was March 17, 2018 before testing positive for a steroid. USADA initially suspended Werdum for two years, but that was reduced to 10 months.
Strawweight: Carla Esparza (17-6) def. Michelle Waterson (17-8) by split decision (30-27, 29-28, 27-30)
Former strawweight champion Carla Esparza pulled out a split decision victory over Michelle Waterson — despite the fact one judge thought she lost every single round.
It was a bit of an odd fight, as illustrated by three very different scorecards. Two judges had the bout for Esparza, via scores of 30-27 and 29-28. A third judge had it for Waterson, 30-27.
It was a difficult fight to score due to inactivity. Waterson clearly wished to keep things on the outside, utilizing push kicks and counter punches to keep Esparza at bay. Esparza occasionally tried to get the fight to the ground, but had little success. She managed to only score one takedown the entire fight, although she did land some good flurries when the action was in tight.
The issue was, the action was rarely in tight. So, judging came down weighing Waterson's point-fighting from the outside, versus Esparza's sporadic activity in close. Ultimately, the scores went in Esparza's favor, resulting in her third win in a row. Waterson looked genuinely surprised as the final scores were read.
Waterson, 34, has now dropped two in a row, after winning three consecutive bouts in 2018 and early 2019
Welterweight: Vicente Luque (18-7-1) defeats Niko Price (14-4) by TKO (doctor's stoppage)
Niko Price looks to pour it on Vicente Luque, but he gets dropped with a vicious right hand in round 2.
Luque let loose with a whipping left hook in the third round, and Price — clearly in pain — crumpled to the canvas. Shortly after, the fight was over.
The action was paused, and Price's many cuts and swollen eye were examined by the ringside physician. The doctor recommended to referee Jason Herzog that Price should not continue, and Herzog waved the bout off — a doctor's stoppage TKO at 3:37 of the third round.
Seconds later, Price's right eye was completely swollen shut.
"I'm an entertainer," Luque said. "First event back from everything going on, I think I brought it."
No doubt about that. He and Price both had strong performances in a bloody, violent, back-and-forth bout. Price had moments in the first round when he landed a hard front kick to Luque's face and then flurried against the cage.
In the second, Luque dropped Price with a combination while Luque's back was against the cage. Price's right cheek was bleeding and swelling from those Luque left hooks, which gave way to the big one that ultimately finished the bout in the third.
Awesome fight I'm giving a standing ovation in my living room

— Belal Muhammad (@bullyb170) May 10, 2020
"I had to keep on punishing him until I got the finish," Luque said.
This was a rematch of a 2017 clash, also won by Luque. That time, Luque finished with a second-round submission.
"I beat him last time," Luque said. "I knew he was not gonna come easy. He wanted to take my head off, I expected that."
Luque, 28, is the third fighter in UFC welterweight history with 10 finishes. The New Jersey-born Brazilian has won seven of his past eight fights.
Price, a 30-year-old Florida native, has lost three of five. Price has not gone to decision in 11 UFC fights, a feat matched only by Royce Gracie, Nikita Krylov and Gabriel Gonzaga, per ESPN Stats & Information research.
— Raimondi
---
Featherweight: Bryce Mitchell (13-1) defeats Charles Rosa (12-4) by unanimous decision
After winning his last fight with just the second twister in UFC history, Bryce Mitchell works for the submission again vs. Charles Rosa.
Mitchell failed to submit Rosa, but it wasn't for a lack of trying.
Mitchell thoroughly dominated Rosa over the course of three rounds and nearly submitted him at least a dozen times. Rosa proved to be resilient, but that was about it, as he had no answer for Mitchell's grappling acumen.
All three judges scored it a blowout for Mitchell: 30-25, 30-25 and 30-24. Rosa was so overwhelmed on the floor, cameras actually picked up Rosa asking Mitchell if they could get up and stand.
"Ninety-nine percent of people [would have tapped]," Mitchell said, respecting Rosa's fortitude.
What a beautiful display of mma bjj #UFC249

— Randa Markos (@randamma) May 9, 2020
Mitchell improves to 4-0 in the UFC. His wrestling and submission skills have made him a standout prospect in the featherweight division.
Nearly the entire fight took place on the ground. Mitchell transitioned seamlessly into arm triangle attempts, as well as rare twister attempts, which place a tremendous amount of pressure on the spine. There have been only two twister finishes in UFC history, and Mitchell owns one of them.
The 25-year-old Arkansas native has been adamantly asking the UFC if he can wear camouflage shorts into the Octagon. According to the broadcast, UFC president Dana White approved the request immediately after Mitchell's dominant win.
"I just think that I proved that I got world class teammates and coaches," Mitchell said. "I've been saying that for years, what they're telling me to do and what I'm doing is world class s—. I've always believed that and I guess people are starting to believe that themselves now, but even when nobody did believe I don't give a damn I'll go out there and fight anyways."
— Okamoto
---
Light heavyweight: Ryan Spann (18-5) defeats Sam Alvey (33-14) by split decision
Ryan Spann gets rocked but manages to survive a late onslaught from Sam Alvey.
Alvey had Spann in big trouble in the third round. He rocked Spann with a hard right hand, nearly choked him out with a guillotine and then wobbled him with another right before Spann escaped. It ended up not being enough. In the UFC 249 opener — the first UFC fight since March 14 — Spann edged out a split-decision win (29-28, 28-29, 29-28) in front of an empty arena.
Yea I wasn't sure who was getting this one. Really tight IMO. Alvey isn't the "greatest technical" fighter, but he has a knack for hanging in there with the best guys and beating some of em. I picked him as a dog for the upset. #UFC249 https://t.co/Ap0T41peR0

— Aljamain Sterling (@funkmasterMMA) May 9, 2020
Spann controlled the first round, appearing to nearly choke out Alvey while they stood against the cage, but Alvey survived.
It was Spann's fourth straight win in the UFC, tying Jon Jones and Magomed Ankalaev for longest active win streak in light heavyweight division. It's his eighth straight overall.
Alvey has lost four straight.
"I wanted to look more imposing, but overall I'm happy to get the win, just disappointed in the way we got it, but we're back," Spann said. "It's cool to be honored and be mentioned with [Jones], the champion of the division. I want to have the most dominant streak not just in my division, but in the whole UFC. I just need to come in and be me, have fun and take over like we can."
Ryan Spann isn't thrilled with his performance despite the win, and Joe Rogan can't break an old habit by announcing his name to a vacant crowd.
---
Still to come
Main card, 10 p.m.
Interim lightweight championship: Tony Ferguson (26-3, -195) vs. Justin Gaethje (21-2, +165)
Bantamweight championship: Henry Cejudo (c) (15-2, -240) vs. Dominick Cruz (22-2, +190)
Heavyweight: Francis Ngannou (14-3, -280) vs. Jairzinho Rozenstruik (10-0,+230)
Featherweight: Jeremy Stephens (28-17, +210) vs. Calvin Kattar (20-4, -260)




Original Content

Website Source