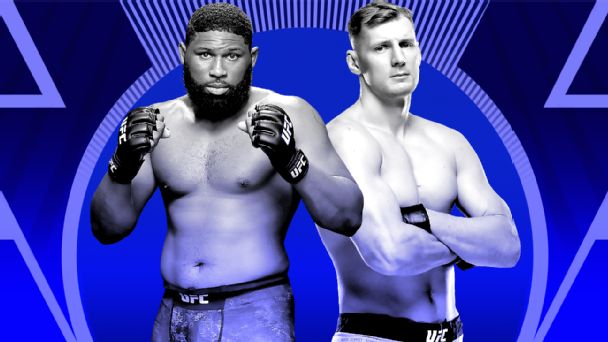 LAS VEGAS — From the beginning of 2018 until today — a span that encompasses 30 months — the UFC has promoted exactly four heavyweight title fights. In other words, not even two per year.
That kind of inactivity at the top of a weight class produced a logjam — a bottleneck of contenders impatiently waiting for an opportunity to vie for a UFC title. And perhaps no heavyweight has been more impacted by this than Curtis Blaydes, whom ESPN ranks No. 4 in the division.
Blaydes (13-2) will seek his ninth win in 11 UFC appearances Saturday night, when he takes on Alexander Volkov (31-7) in the main event of UFC Fight Night. Should Blaydes win, which he is heavily favored to do, he still might be waiting for a title shot. Current champion Stipe Miocic is scheduled to face Daniel Cormier on Aug. 15, and another contender in Francis Ngannou will probably be next. Blaydes' best shot, should he win Saturday, might be for Miocic and Cormier both to retire after they complete their trilogy. Cormier said he will, and there's speculation Miocic may also call it quits. If that happens, Blaydes may get a shot for the vacant title against Ngannou, who already owns two wins over Blaydes.
That's a tough backdrop for a fight, but it doesn't appear to have done anything to Blaydes' confidence. He shared on social media this week he intends to "rag doll" Volkov inside the UFC's Apex facility. Blaydes can't control the logjam in his division, but at least he feels he can control Saturday's fight.
The co-main event may turn out to steal the show as Josh Emmett and Shane Burgos are expected to provide nonstop action.
Brett Okamoto, Marc Raimondi and Jeff Wagenheim recap all the action, as it happens.
---
Fight in progress:
Lightweight: Clay Guida (35-16, 15-13 UFC, +200)vs. Bobby Green (24-10-1, 5-5-1 UFC, -240)
---
Results:
Strawweight: Tecia Torres (11-5, 7-5 UFC) defeats Brianna Van Buren (9-3, 1-1 UFC)
Recap to come.
👏🏼👏🏼👏🏼👏🏼👏🏼👏🏼 yes!!! @TeciaTorres 🌪

— Amanda Nunes (@Amanda_Leoa) June 20, 2020
---
Middleweight: Marc-Andre Barriault (12-4, 1-3 UFC) defeats Oskar Piechota (11-4-1, 2-4 UFC) by third-round TKO
Marc-Andre Barriault lands a right hand on Oskar Piechota in the first round.
It took him much longer than he would have liked, but Quebec's Barriault finally has his first win in the UFC.
The Canadian middleweight finished Piechota via TKO at 4:50 of the second round, after hurting him with an uppercut and right cross along the fence. Piechota eventually went down to one knee, and then fell over onto his back, prompting referee Chris Tognoni to step in. It's Barriault's first victory in four trips to the UFC's Octagon.
Barriault with an amazing performance. 👏🏽👏🏽👏🏽👏🏽 #UFCVegas

— Tatiana Suarez (@tatianaufc) June 20, 2020
It was obvious Barriault wanted to pressure Piechota from the opening bell, and he did so effectively. He found a consistent home with the right hand, and mixed in elbows when the action was in close. Piechota really didn't have much of an answer. He landed a couple of uppercuts of his own, as well as an occasional jab to try to slow Barriault's pressure, but spent the most of the bout with his back near the fence.
Barriault, 30, records his first win since September 2018. Piechota's misery in the UFC continues, as he has been finished in four consecutive bouts.
— Okamoto
---
Women's flyweight: Gillian Robertson (8-4, 5-2 UFC) defeats Cortney Casey (9-8, 5-7 UFC) by third-round rear-naked choke
It looked as though the fight would go into the books as three lookalike rounds with Robertson dominating Casey with ground control but little threat of finishing her. Then, as the final seconds ticked down, Robertson suddenly seized a rear-naked choke and got the tapout at 4:32 of Round 3.
Thus, Robertson continued her run of finishing every one of her seven UFC bouts. It was her fourth submission, the most in UFC women's history. According to ESPN Stats & Information, it also was the latest stoppage in UFC women's history, coming with 24 seconds left on the clock.
Sweet choke

— Jamahal Hill UFC (@JamahalH) June 20, 2020
Before the choke, all three rounds played out almost identically. In Rounds 1 and 2, Robertson absorbed a couple of crisp right hands before taking Casey to the canvas before the round was a minute old. Robertson took a little more time to get to the mat in Round 3, but just like in the first two rounds, she maintained top control the rest of the way.
Robertson advanced her position again and again, and the best Casey could do for the most part was regain full or half guard. She did attempt an armbar midway through the final round, but Robertson did not appear to be in trouble. Then Robertson seized control again and finished the job.
— Wagenheim
---
Lightweight: Justin Jaynes (16-4, 1-0 UFC) defeats Frank Camacho (22-9, 2-5 UFC) by first-round TKO
When Jaynes woke up three days ago, he wasn't even on the UFC roster. With very few MMA events being held right now outside the UFC due to the coronavirus pandemic, he said he was just sitting around "all depressed."
Now, less than 72 hours later, he has a highlight-reel knockout in his UFC debut that lasted less than a minute.
FASTEST DEBUT FINISHES – UFC Lightweight
0:38 – Diego Ferreira (SUB)
0:41 – @JustinJaynesMMA (KO)
0:41 – Charles Oliveira (SUB)
0:42 – Alexander Hernandez (KO)
0:46 – Devonte Smith (KO)#UFCVegas3 pic.twitter.com/qD8XAUQkuJ

— UFC News (@UFCNews) June 20, 2020
Jaynes landed four huge left hooks — and some hard right hands in between — to stop Camacho by TKO at 41 seconds of the first round. Jaynes was slotted into this spot when Matt Frevola, Camacho's initial opponent, was pulled from the card due to his cornerman testing positive for COVID-19.
"I'm waiting to wake up from a dream right now," Jaynes said.
The victory is tied for the second-quickest finish for a debutant in UFC lightweight history with Charles Oliveira. Diego Ferreira has the fastest (38 seconds).
Jaynes, 30, has been a pro MMA fighter since 2013 and a regular at Xtreme Couture in Las Vegas for more than a decade. Yet, he had not gotten a shot in the UFC until now. Jaynes, a Michigan native, has won five in a row overall. He was previously competing for the regional promotion WXC in his home state. Jaynes has won nine of his past 10 with seven finishes.
Camacho, 31, has now dropped two straight. The Guam resident has been known for his exciting fights, but has just one win since 2017.
"I can't say that I'm surprised, I knew what the game plan was, come in the pocket and throw some heat," Jaynes said. "If he gets caught early, he gets caught early, if he gets caught late, he gets caught late. I'm glad we're in, we're out, I'm happy about it, can't say that I'm not happy about it.
"I feel like I am the most overlooked fighter around. I'm hoping with that performance that people aren't going to overlook me anymore. Frank, like you said, he's a veteran of the sport, it's his seventh UFC fight, I'm a fan of Frank, it was an honor to be in the cage with him, I'm super excited."
— Raimondi
---
Women's flyweight: Lauren Murphy (13-4, 5-4 UFC) defeats Roxanne Modafferi (24-18, 3-6 UFC) by unanimous decision
Lauren Murphy catches Roxanne Modafferi with a right hand jab that sends her stumbling in the second round.
Murphy extended her win streak to three with a clear-cut unanimous decision over the former title challenger.
According to UFC Stats, Murphy outstruck Modafferi 108 to 102 and wobbled her with a short right hand in the second round. Modafferi continued to press forward throughout the fight, but found herself repeatedly walking into Murphy's counter right hand. She forced her way into the clinch multiple times, but Murphy did well defending those positions and disengaging.
MOST FLYWEIGHT WINS – UFC History
5 – Valentina Shevchenko
5 – Katlyn Chookagian
4 – Lauren Murphy
4 – Joanne Calderwood
4 – Montana de la Rosa
4 – Jessica Eye
4 – Gillian Robertson#UFCVegas3 pic.twitter.com/gO4sHGCAQK

— UFC News (@UFCNews) June 20, 2020
Murphy, who fights out of Texas, has been on a roll over the past year. The 36-year-old was coming off upset wins in her past two fights against Mara Romero Borella and Andrea Lee. Her four total wins in the UFC's flyweight division ranks second all-time, behind current champion Valentina Shevchenko and Katlyn Chookagian.
Modafferi continues her trend of alternating wins and losses, which dates all the way back to 2017.
"I have the longest win streak in the flyweight division right now and all of my wins are over ranked opponents," Murphy said. "Nobody else in the flyweight division can say that. I knocked out the No. 12 contender, I beat Andrea Lee and she was ranked No. 7 and I was a 4-1 underdog in that fight. I believe I was the underdog, in fact I've been the underdog in every fight I've had at flyweight and I think almost every fight that I had at bantamweight. I'm 4-1 in this division and my last three wins are over ranked opponents, my only loss is to someone that is now a bantamweight and she was undefeated at flyweight. I definitely deserve a spot in the top 5, I think I deserve a spot on the women's pound-for-pound list and I want to fight Cynthia Calvillo next.
"She's the girl to beat right now. She's a really, really excellent fighter. She walked right into the division and she took the No. 2 spot and I think that's a great matchup for me. I think I can beat her and I want to show everybody that I can."
— Okamoto
---
Lightweight: Austin Hubbard (12-4, 2-2 UFC) defeats Max Rohskopf (5-1, 0-1 UFC) by second-round TKO
Austin Hubbard pours on the combinations to overwhelm Max Rohskopf in the second round.
Hubbard withstood an early storm from Rohskopf, but in the end that was all Rohskopf had in him in his UFC debut. Hubbard put a beating on him in a one-sided Round 2, and Rohskopf quit on his stool at the end of the round.
This is a tough sport and there is no shame in being done when you can't go any further. I personally would be in regret for the rest of my life but hey I don't have to fight Austin

— Randa Markos (@randamma) June 20, 2020
Rohskopf came in riding a hype train. Though he had only five pro fights, he had won them all by submission. And early on, he showed off the pedigree from his training with grappler extraordinaire Robert Drysdale at Xtreme Couture in Las Vegas, putting Hubbard in trouble on the mat twice in the opening round and threatening submissions. But Hubbard escaped both times, and he made Rohskopf pay with solid punch and kick combinations. By round's end, Hubbard's confidence was soaring and Rohskopf's was flagging.
Round 2 began with hope for Rohskopf, who took this fight on 10 days' notice. He got the fight to the canvas again within the first five seconds. But Hubbard quickly got back to standing, and it was one-way traffic from then on. Hubbard, who trains at Team Elevation in Denver, put it on Rohskopf — leg kicks, body punches, jabs, straight right hands. By the time the horn sounded, Rohskopf was bloody and sagging. And then he told his cornermen he was done.
According to UFC Stats, Hubbard led Rohskopf 45-6 in significant strikes in the second round.
"I seen him shaking his head and I heard the ref saying, 'it's over' and I was like, 'what really?' I've never experienced that, I'm not complaining, I got the finish so I'll take it," Hubbard said. "Once I was popping up right away off those takedowns and he couldn't control me at all, especially when he did surprise me a little bit on those rolls, where he got my legs. I defended them and got out pretty quick and got back up and I think it scared him.
"I think he realized he was in over his head a little bit and I think also that he knew he had nothing for me on the feet and I had a lot for him. He's a very talented person, a lot of good attributes, but he's really green in his career still, he's 5-0. There's a lot to learn, I think someone told me he fought one opponent over 500. This is the next level, I fought a lot of people that were really good before I got here into the UFC. I won multiple regional titles before I got here to the UFC and I'm really thankful about that. I got into the UFC at 10-2 which seems kinda long, it was longer at the time than I wanted, but it gave me that experience that I need to be here now and I'm super thankful for that and I'm looking forward to the future."
— Wagenheim
---
Still to come:
Heavyweight: Curtis Blaydes (13-2 1 NC, 9-2 1 NC, UFC, -400) vs. Alexander Volkov (31-7, 5-1 UFC, +320)
Men's featherweight: Josh Emmett (15-2, 6-2 UFC, +120) vs. Shane Burgos (13-1, 6-1 UFC, -140)
Women's bantamweight: Raquel Pennington (10-9, 7-5 UFC, -180)vs. Marion Reneau (9-5-1, 5-4-1 UFC, +160)
Welterweight: Lyman Good (21-5, 3-2 UFC, +100) vs. Belal Muhammad (16-3, 7-3 UFC, -120)
Catchweight (160 pounds): Jim Miller (31-14 1 NC, 20-13 1 NC, +200) vs. Roosevelt Roberts (10-1, 4-1 UFC, -240)




Original Content

Website Source