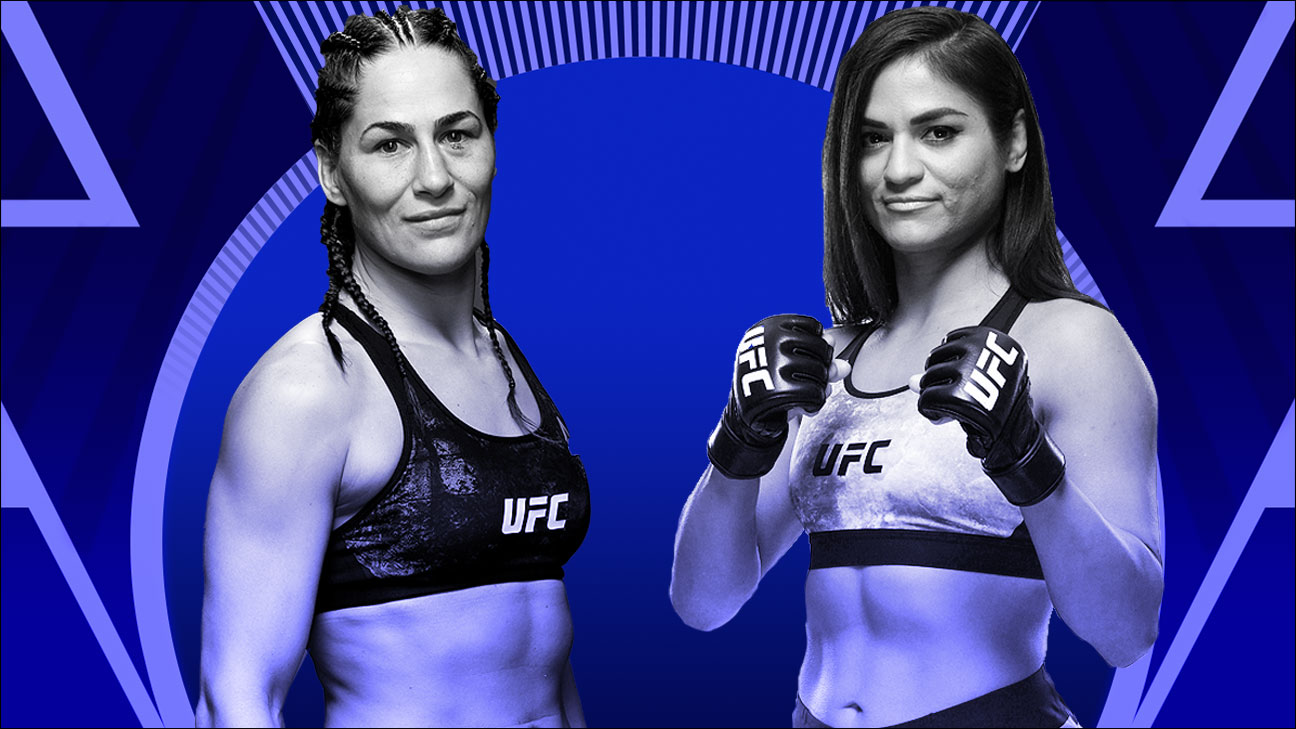 UFC flyweight champion Valentina Shevchenko has looked unbeatable during her four-fight title reign, but the division is still full of challengers working toward their shot at the belt.
That list includes former title challenger Jessica Eye (15-7) and Cynthia Calvillo (8-1-1), who will meet in the main event of Saturday's UFC Fight Night inside the UFC's Apex facility in Las Vegas. Eye already came up short against Shevchenko in June 2019, but is still ranked just below her in the UFC's rankings. Calvillo is a former strawweight, making her 125-pound debut.
Shevchenko is expected to face Joanne Calderwood in her next title defense, but the dominant champ has repeatedly said she'd like to remain active — and if she continues going through opponents with the ease she has thus far, she's always going to be in need of a "next in line."
Eye and Calvillo will each look to build their case for a future shot on Saturday, although Eye's chances might have already taken a hit as she missed weight for a second consecutive time during Friday's official weigh-ins.
The co-main event may turn out to capture the fight-of-the-night bonus as Marvin Vettori battles Karl Roberson in a middleweight bout fueled by bad blood. The two were supposed to fight twice before, but the first time was canceled by the coronavirus pandemic and the second by a bad weight cut by Roberson, who had to be hospitalized. Vettori confronted Roberson in the host hotel in Jacksonville after the second cancelation and the fight almost took place in the lobby. Roberson missed weight once again, but it won't prevent this fight from happening.
Brett Okamoto and Marc Raimondi recap the action as it plays out in Las Vegas.
---
Fight in progress:
Men's featherweight: Andre Fili (20-7, 8-6 UFC, -220) vs. Charles Jourdain (10-2, 1-1 UFC, +185)
---
Results:
Men's bantamweight: Jordan Espinosa (15-7, 2-2 UFC) defeats Mark De La Rosa (11-5, 2-5 UFC) by unanimous decision
In a must-win fight for both men, Espinosa put on a comprehensive performance.
Espinosa stopped all of De La Rosa's takedown attempts, landed solid shots on the feet and even did damage to De La Rosa on the ground for a unanimous-decision (30-27, 30-27, 30-26) victory.
Some of Espinosa's best offense came in the first round. De La Rosa was working on a single-leg takedown attempt against the cage, but Espinosa landed hard downward elbows to the side of De La Rosa's head. One of them wobbled De La Rosa, but he survived until the end of the round. Espinosa landed more than 100 strikes in the first round, per UFC Stats.
Espinosa has competed twice on Dana White's Contender Series at the UFC Apex. He said that eased his nerves once he got into the cage Saturday for this bantamweight bout.
"I wasn't nervous at all," Espinosa said. "I could hear everything. … The Contender Series definitely helped me with that."
In the third, Espinosa turned the tables and took De La Rosa down. There, he landed hard right hands and a knee to the body as De La Rosa began getting up.
Espinosa, 30, had a two-fight losing streak snapped. The 30-year-old New Mexico native notched his first win since his UFC debut in March 2019.
De La Rosa, a 25-year-old Texan, has dropped four in a row.
— Raimondi
---
Women's flyweight: Mariya Agapova (9-1, 1-0 UFC) defeats Hannah Cifers (10-6, 2-4 UFC) by first-round rear-naked choke
Mariya Agapova lands a perfectly timed kick on Hannah Cifers' chin in Round 1.
Less than one year ago, Agapova left the Dana White Contender Series empty-handed, thanks to an upset defeat at the hands of Tracy Cortez. My, how things have changed since.
Agapova, 23, delivered a standout performance on Saturday, submitting Cifers via rear-naked choke at the 2:42 mark of the opening round. The 125-pound fight did not last long, but it still offered plenty of evidence as to why the UFC was high on Agapova even after she failed to earn a contract last year.
Ever since I seen Agapova fight in Invicta I immediately became a fan!! She's a beast and I love her style! She just delivered in a BIG way 👏🏻👏🏻 #UFCVegas2

— Megan Anderson (@MeganA_mma) June 14, 2020
The American Top Team product put Cifers on the end of her looping left hand, and hurt her multiple times with kicks and knees to the body. Cifers eventually went to the ground on her own, after taking so much damage on the feet, and Agapova seemed more than content to follow her there and finish the job. It marked Agapova's third consecutive finish.
Cifers has been finished in each of her past three UFC bouts. She suffered a submission loss to Mackenzie Dern just two weeks ago at a UFC Fight Night event.
— Okamoto
---
Catchweight (140 pounds): Merab Dvalishvili (11-4, 4-2) defeats Gustavo Lopez (4-4, 0-1 UFC) by unanimous decision
Merab Dvalishvili lands a big right hand and then a massive takedown of Gustavo Lopez early in the second round of their bout at UFC Fight Night.
Look out, Khabib Nurmagomedov, there's another Eastern European takedown artist who has now cemented himself as a UFC stalwart.
Dvalishvili landed a UFC bantamweight-record 13 takedowns en route to a unanimous-decision (30-26, 30-26, 30-25) win over Lopez in the featured preliminary fight of UFC Fight Night: Eye vs. Calvillo. Dvalishvili was absolutely relentless with his pressure and wrestling. Lopez, who accepted the fight just two days ago, somehow lasted until the end, but he was dominated.
The Machine vs Sugar Sean? #UFCVegas2 pic.twitter.com/2fQgwxU9Nf

— UFC (@ufc) June 14, 2020
The previous bantamweight takedown record was also held by Dvalishvili (12). He and Demetrious Johnson are the only two fighters in modern UFC history with three fights notching 10 or more takedowns. Georges St-Pierre and Colby Covington both have two fights of 10 or more takedowns. All of the aforementioned names besides Dvalishvili have won UFC titles.
Afterward, Dvalishvili called out bantamweight prospect Sean O'Malley.
"Let's show everyone a real fight," Dvalishvili said.
Dvalishvili, 29, has won four straight, all by unanimous decision. The 29-year-old Republic of Georgia native, who lives and trains in New York, is a former Ring of Combat bantamweight champion.
Lopez, a 30-year-old Las Vegas resident, had a three-fight winning streak snapped. He is the most recent Combate Americas bantamweight champion and had to be cleared by the promotion to sign with the UFC on Thursday when Ray Borg, Dvalishvili's original opponent, withdrew due to personal reasons.
— Raimondi
---
Women's bantamweight: Julia Avila (8-1, 1-0 UFC) defeats Gina Mazany (6-4, 1-4 UFC) by first-round TKO
Avila traveled a long road to her second UFC appearance, but the fight itself sure went quickly. Avila scored a TKO finish in just 22 seconds. It was Avila's first bout since she won her UFC debut last September.
She was scheduled to fight in October, April and May, only to see all those fall through for various reasons. Fighting out of Oklahoma City, Avila has recorded four first-round finishes in her career. The 22-second finish is the fourth fastest in women's UFC bantamweight history.
These might be quick, but they'll never break my record https://t.co/DtIsDjn76D

— Funky Ben (@Benaskren) June 14, 2020
Mazany, who fights out of Las Vegas, was cut by the UFC last year after getting off to a 1-3 record in the promotion. She managed to get a second shot in this short-notice bout, only to have it result in the quickest loss of her career.
"I knew I hurt her with that knee up the middle," Avila said. "I saw my prey and went in for the kill. My right cross is nothing to mess with. When I felt it land, I heard my corner say, 'Attack.'
"I think the division has known about me. I'm that annoying fly in the background, but now I'm starting to make a couple waves. They're starting to see what I'm capable of. I still have a lot to show. I have to earn my stripes. I look forward to that journey."
— Okamoto
---
Men's bantamweight: Tyson Nam (19-11-1, 1-2 UFC) defeats Zarrukh Adashev (3-2, 0-1 UFC) by first-round KO
With his UFC job potentially on the line, Nam blasted Adashev with a one-punch knockout at just 32 seconds of the first round.
Adashev went for a leg kick in the opening seconds and Nam countered with a huge right hand. Adashev was out on impact. Nam was emotional afterward. It was his first UFC victory.
"His only chance was to come in hard from the start," said Nam, who added he could fight again next week. "I'm gonna fight fire with fire. Even though these guys can hit hard, I feel like I can always hit harder."
Full of emotions tonight – @TysonNam earns his first UFC victory 👏 #UFCVegas2 pic.twitter.com/xegsRrZtl8

— UFC (@ufc) June 13, 2020
Nam, 36, was on a two-fight losing streak. This was the Hawai'i native's first win since July 2019, which came under the X-1 World Events banner. Nam has been a pro MMA fighter for 14 years with stops in Bellator, World Series of Fighting and Russia's Fight Nights Global promotion.
Adashev, 27, was on a three-fight winning streak coming in, all in Bellator. The Uzbekistan native, who lives and trains in New York, missed weight by 1.5 pounds Friday for this bantamweight bout. Adashev was an accomplished pro kickboxer prior to transitioning to MMA, having competed for such promotions as Glory.
— Raimondi
---
Welterweight: Christian Aguilera (14-6, 1-0 UFC) defeats Anthony Ivy (8-3, 0-1 UFC) by first-round TKO
Aguilera added another quick knockout to his resume, as he finished Ivy in just 59 seconds with a flurry of right hands. Aguilera, 28, has now recorded six sub-minute knockouts in his career.
Aguilera's power was evident from the first blow, as it instantly forced Ivy to retreat to the fence and cover up. Ivy was never knocked down by any of the right hands, or knocked out, but his defensive posture prompted referee Dan Miragliotta to wave it off quickly.
Quick work by @DatBeastChris, wrapping up his UFC debut in less than a minute ⏰ #UFCVegas2 pic.twitter.com/M3g4uTl3eS

— ESPN MMA (@espnmma) June 13, 2020
It was Aguilera's first UFC appearance. The California native has fought former UFC talent in David Michaud and Matt Sayles.
It was Ivy's first loss via knockout.
— Okamoto
---
Still to come:
Women's flyweight: Jessica Eye (15-7 1NC, 5-6 1NC UFC, -110) vs. Cynthia Calvillo (8-1-1, 5-1-1 UFC, -110)
Middleweight: Karl Roberson (9-2, 4-2 UFC, +180) vs. Marvin Vettori (14-4-1, 4-2-1 UFC, -210)
Lightweight: Charles Rosa (12-4, 3-4 UFC, +160) vs. Kevin Aguilar (17-3, 2-2 UFC, -180)




Original Content

Website Source